Who is Who?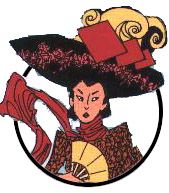 Mina Murray
She's from Bram Stoker's famous novel "Dracula". By the time of the events in LOEG she's divorced from Jonathan Harker. She's the one who is asked by Campion Bond to recruit some people for a secret mission. She's a very strong character, the most dominant member of the League and, despite being a woman, its leader. It is not clear if she was ever bitten by a vampire but she always wears a bandanna around her neck.
Allan Quatermain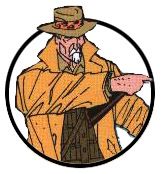 He's from Henry Rider Haggard's adventure novels (e.g. "King Solomon's Mines"). In our story, he's an old man, opium-addicted, hanging around at Cairo and recruited by Mina to become a member of the League. As the story progresses, his old adventurer's spirit comes back to life. He feels attracted by Mina, but she pushes back all his little approaches to her (at least in Vol. I...)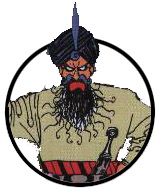 Captain Nemo
He's from Jule Verne's "20.000 Leagues under the Sea". He's Indian, actually a Sikh, but his only real home is his submarine called Nautilus. Nemo doesn't talk much and has a quite mistrustful relationship to the rest of the League. But whenever the situation gets tough, he's immediately on the spot and helps with his futuristic equipment.
The Invisible Man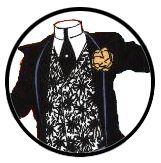 Dr. Hawley Griffin from H.G. Wells' novel of the same name is a chemist who managed to make his body invisible but couldn't revert that transformation. He's not the traditional 'good guy' though he's part of a team which fights for the good side. But his motivations are always a bit shady and he's not very well-respected by his teammates.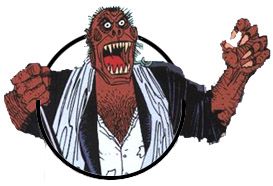 Dr. Jekyll / Mr. Hyde
The classic schizophrenic character created by Robert Louis Stevenson. Dr. Henry Jekyll is a weak and shy guy, always afraid of getting out of control and so transforming into his Alter Ego, Edward Hyde. The latter is a huge, ape-like monster with very cruel habits and a very powerful weapon against the Leagues's adversaries.
Campion Bond
One of the few characters in LOEG without a straight reference to literature. But his surname isn't pure coincidence, since he's acting by order of her majesty. He's the middle man between the League and the mysterious leader of the secret service, Mr M.
Mr. M
SPOILER ALERT!
The leader of MI5, the British secret service. He's contacting the League through Campion Bond and doesn't want his identity to be known. Mina assumes he's Mycroft Holmes (Sherlock's brother) but as we learn later, he's Professor James Moriarty, the detective's arch enemy from the pages of Sir Arthur Conan Doyle's novels. He's not only the leader of the secret service but also of a great part of the underworld. Now he wants to fight his biggest rival, the Doctor.
The Doctor
is actually Dr Fu Man Chu created by Sax Rohmer (Moore wasn't allowed to use the full name due to copyright problems). He embodies the pure devilish evil. In London's Limehouse district he's building a giant battle airship, a deadly weapon for his future plans.