Alan Moore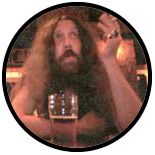 Born on November 18, 1953 at Northhampton, England.
In the 1970s, he began working for British comic magazines like 2000 A.D. and Warrior. The latter featured Marvelman (aka Miracleman) and V for Vendetta, for which he received his first awards in 1982 and 1983.
His first job in the U.S. was Saga of the Swamp Thing for DC Comics. He revived this worn-out character and so his name became bigger in the USA. In 1986 Moore created his legendary maxiseries Watchmen, a story which was a landmark for superhero comics and is one of the all-time masterworks of American comics. At the end of the 80s he left DC and started to work on smaller independent projects like Big Numbers, Lost Girls and From Hell. He also wrote superhero stories for Image Comics (Supreme, 1963 a.o.) Since 1999, he works for his own label ABC.
Moore, who calls himself a magician, works on other art forms, too. He did prose stories, poems, music and performances.
Moore is living at Northhampton and doesn't want to leave England. He promised to never go to a comic convention again.
There are a lot of Interviews with Alan Moore on the web, check out the link section.
You can listen to MP3 files of songs he performed with Tim Perkins at MP3.com -- for further reading, check out the link section.
Steve Moore
Steve Moore is not related to Alan. He's an Englishman who started his career at 2000 A.D. and was kind of a mentor for Alan in his early days.
His first ABC stories were printed in the 64-Page Giant, since 2001 he's the regular writer of the short stories Young Tom Strong und Jonni Future in Tom Strong's Terrific Tales.
Peter Hogan
After Rick Veitch and Steve Moore, Hogan is the third author besides Alan Moore who wrote stories for ABC. Also from Britain, he started as a comic journalist. Among his comics works are some issues of Sandman Presents. After a long hiatus he came to ABC, where his first work was the one-shot The Many Worlds of Tesla Strong, followed by the mini-series Terra Obscura. For this book, he wrote the scripts after developing the plot together with Alan Moore. Some interviews with Peter Hogan on the net: Silver Bullet Comics, 4ColorHeroes Part 1 and Part 2, The Pulse.