Kevin O'Neill

(The League of Extraordinary Gentlemen)
Born in 1953 in London. Like Alan, he's from England and started his career at the British talent pool 2000 A.D., where he drew Judge Dredd and Marshall Law. You can read an article about O'Neill at Barbelith.

Chris Sprouse (Tom Strong)
Born on July 30, 1966. Among his first professional works were some issues of JLA and DC's miniseries Hammerlocke, before he worked with Alan Moore on Supreme.

Gene Ha (Top 10)
His best-known pre-Top 10 work is most likely Fortunate Son, a Batman Elseworlds story. At present, Gene is working on the pages for the Top-10-Graphic Novel The 49ers. He has his own website, and interviews can be found at Pop Image, Comic Book Life and 4ColorHeroes.

Zander Cannon (Top 10, Smax)
Born on Januray 11, 1972 and now living in Japan. He did the page layouts for Top 10. For the miniseries Smax, he's the penciller. Before Top 10, Zander had his own project at Image, called Replacement God. He has his own Website, too. He's been interviewd by 4ColorHeroes.

J.H. Williams III (Promethea)
Before his work on Promethea, he did Son of Superman and some other DC comics. He's the co-creator of the mini-series Chase (with Curtis Johnson). For more information visit his website or read the interviews at Slush Factory and the feature at NinthArt.

Rick Veitch (Greyshirt)
Rick's career comprises several works with Alan Moore, e.g. Miracleman, Swamp Thing, 1963 and Supreme. He self-published Rare Bit Fiends and Brat Pack. Veitch is a co-founder of comicon.com. He was the writer and artist for the ABC mini-series Greyshirt: Indigo Sunset. Interviews: Pop Image, Comics Journal

Kevin Nowlan (Jack B. Quick)
Regarded as one of the industry's best inkers, Kevin Nowlan (born in 1958) is also a letterer and a great cover artist (e.g. for Superman). You can read an interview with Nolan on Richmond Comix.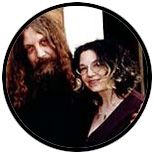 Melinda Gebbie (Cobweb)
Melinda became connected to Alan via Lost Girls, a still uncompleted work he wrote and she painted. Since then they're also partners in their private life.
Jim Baikie (First American and U.S.Angel)
Baikie was born in 1940 on the Scottish Orkney Islands. His first work with Alan Moore was Skizz in the pages of 2000 A.D.
Hilary Barta (Splash Brannigan)
Barta was the artist on a Plastic Man mini-series in the late 80s and worked as an inker for lots of Marvel and DC books.
Paul Rivoche (Tom Strong's Terrific Tales)
Rivoche's first work for comics were designs for Mr. X. Then he worked mainly on illustrations and TV animation. ABC editor Scott Dunbier calls him 'quite possibly the best kept secret in comics'.
Alan Weiss (Young Tom Strong)
He's in the business for a very long time, but didn't work regularly on a certain series for a longer period. Before drawing Young Tom Strong, he did the cowboy story in Tom Strong #8 for ABC.
Arthur Adams (Jonni Future)
Also a well-known veteran. Among his works are a run of Fantastic Four, his own series Monkey Man & O'Brien (as backups in Hellboy). His first ABC work was the 'Untold Tale' in Tom Strong #4. He also did some issues for The Authority. Check out the detailed Comic Book Artist Interview.
Yanick Paquette (Terra Obscura)
He's from Canada and worked mainly for Marvel (Gambit), DC (Wonder Woman) and Vertigo (Codename: Knock-Out). His official website hasn't seen an update for a long time...
Here you can find an interview from 1998, when he was starting to draw Wonder Woman.
At Quantumzone, there's an interview with Chris Sprouse, Gene Ha, Zander Cannon, Rick Veitch, J.H. Williams III and Mick Gray, which was conducted when the ABC series launched.