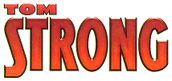 #3: Aztech Nights
Writer: Alan Moore
Pencils: Chris Sprouse
Inks: Al Gordon
Colors: Tad Ehrlich
Lettering: Todd Klein


Cover date: August 1999
Plot Summary:
A story about technologically advanced Aztec(h)s who are ruling lots of parallel worlds because of their superior techniques.
Right now, the Aztecs plan to invade world no. 2058, which is Tom Strong's earth. Suddenly golden pyramids appear in Millennium City's municipal park. Tom Strong arrives quickly at the site and manages to enter one of the pyramids. There he has to fight the megalomaniac madman who leads the aztechs and ends up lying on an altar as a human sacrifice for the Aztec's deity. It's a divine super-computer called Quetzalcoatl-9 which appears in the shape of a snake. Tom's solution of this case is, again, atypical for comics, even a little philosophic...
Comments:
Of the first few TS issues, I liked this one the least - maybe it's because this time we get less of the humor and irony which make this title so enjoyable.