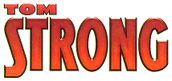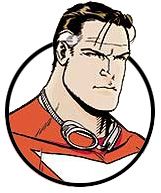 Old-fashioned pulp stories featuring a crime-fighting 'science hero'. Stylistically, the series is a tribute to early super hero comics and pulp magazines of the 30s and 40s. Tom Strong is like a mix of Tarzan and Superman.
He lives in a modern metropolis called Millennium City, but he also has an interesting past, which is explored through various flashbacks. His comrades are King Solomon, a talking gorilla, Pneuman the robot (I'd call him a victorian R2D2), his wife Dhalua and his daughter Tesla.
The series features multi-issue story arcs as well as several short stories in one single issue, often with guest artists involved. All the covers (including the logo, which is always modified) are true labours of love and try to capture the spirit of the respective issue.
Tom Strong was created by Alan Moore and Chris Sprouse.
Issues: #1 | #2 | #3 | #4 | #5 | #6 | #7 | #8 | #9 | #10 | #11 | #12 | #13 | #14 |
#15 | #16 | #17 | #18 | #19 | #20 | #21 | #22 | #23 | #24 | #25 | #26 |
#27 | #28 | #29
Special: The Many Worlds of Tesla Strong