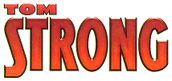 #5: Memories of Pangaea
Writer: Alan Moore
Pencils: Chris Sprouse, Jerry Ordway
Inks: Al Gordon
Colors: Tad Ehrlich
Lettering: Todd Klein


Cover date: December 1999
Plot Summary:
Tom Strong is sent 3 million years back in time by a time machine - when there was only one continent on earth called Pangaea. Not much life can be found here except some plants, a few insects and... the Pangaean! This life form is a kind of intelligent biomass, a muddy organism capable of changing its shape.
Tom remembers that he was sent to Pangaea back in the 1950s - another 'Untold Tale', presented nicely in a EC-horror-comic-style.
So today Tom is once again facing the Pangaean, who has now joined forces with Ingrid Weiss and another villain. Weiss had sent Tom back in time (in #4) in order to distract him and prepare a 'birthday surprise' for him. But instead of letting Tom return to his time, Pangean himself wants to travel into presence and conquer the present world. Of course, Tom can prevent this.
Finally, Tom travels back to our present time and ends up in a room where a model of a Nazi town is standing...
Comments:
I love storylines spreading over several issues - this is the only way to get fantastic cliffhangers like this one! The issue's highlight is the 'Untold Tale', pencilled in a retro style by Jerry Ordway (Superman, Avengers, Power of Shazam!...) where even the lettering reminds of the 50s.
As for the story itself... I don't know. Doesn't seem very logical to me.