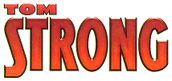 #6: Dead Man's Hand
Writer: Alan Moore
Pencils: Chris Sprouse, Dave Gibbons
Inks: Al Gordon
Colors: Mike Garcia
Lettering: Todd Klein


Cover date: February 2000
Plot Summary:
In the room where Tom landed at the end of #5, he meets his old arch-enemy Paul Saveen. He was believed to be dead, but now he's back and together with his partners-in-crime, Ingird Weiss and the Pangean, he not only wants to defeat Tom but also to break his heart.
Another 'Untold Tale' introduces Saveen to the reader as a typical mad-scientist-character.
After that, we see Tom in a cabinet where Saveen is collecting old inventions and has put up a rogue gallery of Tom's antagonists. One of these statues suddenly descends from its socket: Ingrid Weiss is here in flesh and blood. She and Saveen present a big surprise for Tom: Albrecht, the son conceived by Ingrid Weiss and Tom Strong.
Comments:
Once again, we get a nice old-fashioned 'Untold Tale', this time by guest artist Dave Gibbons (Watchmen). These flashback sequences continue the work Moore began in 1963 and Supreme: comments on the history of a genre, partly parody, partly homage.
The rogue gallery really makes me curious, as does the cliffhanger: is Albrecht really Tom's son?