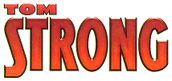 #19: Straighten up and fly right!
Writers: Alan Moore (Tom Strong, Tom & Tesla), Leah Moore (Paul Saveen)
Pencils: Howard Chaykin (Tom Strong), Shawn McManus (Paul Saveen), Chris Sprouse (Tom & Tesla)
Inks: Steve Mitchell (Paul Saveen), Karl Story (Tom &Tesla)
Colors: Dave Stewart
Lettering: Todd Klein


Cover date: April 2003
Plot Summary:
This issue contains three short stories (hey, didn't they launch Tom Strong's Terrifc Tales for that purpose?).
TOM STRONG: Electric Ladyland!
On her way home from a night at the opera, Dhalua is kidnapped by a robot and of course her husband Tom is following him quickly. They end up in the secret hideout of an ultra-feminist womens' organization. They kidnapped Dhalua because they needed somebody to repair their secret weapon, but didn't want to call a male person for help. So they lured Tom by catching his wife. They knew the hero would stop by to rescue his wife.
PAUL SAVEEN: Bad to the Bone
Tom's arch enemy, Paul Saveen, tells us about his death in retrospect. Ironically enough, he died on a quest for the spring of eternal life.
Alan Moore's daughter Leah uses some good storytelling techniques and a surprising final gag.
TOM STRONG AND TESLA THE DANGER-DAUGHTER: The Hero-Hoard of Horatio Hogg!
Tom and Tesla are doing an autograph session at a comic shop when suddenly a mad comic book collector kidnaps them. His jailhouse is a comic book, but Tom finds a way out with the help of other comic book heroes who are kept inside.
This story is full of in-jokes and references to comics from the 50s. For example, in the ad section of the comic book Tom meets a sea monkey and a bodybuilder called Sam Continent (remember Charles Atlas?).
Comments:
An uneven issue with lots of comedy elements. Quite entertaining but not what you call a highlight of the series. It's the problem of this series that it has no straight direction, no definite concept. You never know what to expect. On all the other ABC books, Moore shows that he can follow a straight concept without being boring at all.