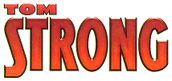 #18: The Last Roundup
Writer: Alan Moore
Pencils: Chris Sprouse
Inks: Karl Story
Colors: Dave Stewart
Lettering: Todd Klein


Cover date: December 2002
Plot Summary:
The story that began in issue #16 comes to its conclusion. Tom Strong's teenage fanclub has landed on the aliens' mother ship. So Tom Strong and his helpers can't attack the ship - they have to rescue the kids first. This is done amazingly quick and trouble-free. Afterwards, Tesla's boyfriend Val Var can destroy the ship by distracting a sun ray.
A few of the ant ships can escape however, but there's still Modular Man sitting on Venus and, last but not least, the mysterious partner Tom recruited in issue #17. It turns out to be the maya temple from issue #9 (which is pretty much the only surprising moment in the whole story).
Comments:
This one was disappointing. We had to wait very long for the conclusion of this storyline, and now everything gets done way too quickly and easily. Three explosions and the ants (introduced as the worst possible threat for the whole mankind) are erased. Okay, this is part of the series' concept (it probably would have been the same in old pulp magazines), but in the end it's a bit too simple for my taste.
At least there was the usual great art as well as some funny one-liners in this story. Tom's jealousy towards Tesla's boyfriend and Svetlana X's difficulties with the English language ('Now we are really copulated') made me laugh.