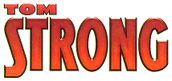 #27: Jenny Panic and the Bible of Dreams
Writer: Steve Aylett
Pencils: Shawn McManus
Colors: Wildstorm FX
Lettering: Todd Klein


Cover date: September 2004
Plot summary:
Meet Hatfill, the strange-looking man without a face. He shows up at the Stronghold, bidding for help: he fell in love with Jenny Panic, a girl who can dream up strange worlds and abduct people into these realms. Tom Strong lures her to abduct him into a dream and he ends up in a strange reality where everything is different. Whenever Tom wants to do something good, it ends up pretty bad.
Comments:
This is a crazy and dazzling accumulation of whimsical ideas which don't result in a good story. Guest writer Steve Aylett offers some nice gags playing with comic book clichees, and Shawn McManus' art (coming in two different styles) looks very nice, but in the end, this is no enjoyable book.
In the words of ADD: "I really, really wish Alan Moore had closed this out when he was done writing it. Tom Strong feels like it's out of control and lost all inspiration since Moore's departure. That's a sad ending for what was one of the most witty, entertaining and visually spectacular titles on the stands just a couple of years ago."
The next issues will be written by the likes of Ed Brubaker and Brian K. Vaughan, which really gives me some hope.