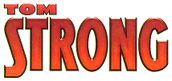 #28: A Fire In His Belly
Writer: Brian K. Vaughan
Pencils: Peter Snejberg
Colors: Wildstorm FX
Lettering: Todd Klein


Cover date: November 2004
Plot summary:
This issue focuses on Pneuman, Tom Strong's robot. When Tom's mother had died, Pneuman made a promise to her: he would always take care that Tom never would have to suffer in his life. Now, when Tom is fighting a villainess named The Eye-Opener in a museum of art and is forced to kill her, he's getting into a big moral conflict. Pneuman witnesses that his master is suffering and so he decides to bring this suffering to an end...
Comments:
It's Brian K. Vaughan (Y: The Last Man, Ultimate X-Men) guest-writing. Putting Pneuman into the center of the story, he's adding some deepness and soul to the character.
Peter Snejberg's (Books of Magic) art is solid but nothing spectacular. Especially the scenes at the museum made me expect something more exciting. Maybe it's because of the tight deadline (Snejberg had to quickly jump in for Cameron Stewart).
But all in all, this was the best issue since Alan Moore left the title and let other creators play with it.