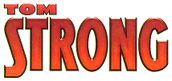 #7: Sons and Heirs
Writer: Alan Moore
Pencils: Chris Sprouse, Gary Frank
Inks: Al Gordon, Cam Smith
Colors: Mec Garcia
Lettering: Todd Klein


Cover date: March 2000
Plot Summary:
In Paul Saven's hideout, Tom is facing his alleged son Albrecht. When Tom met Ingrid Weiss for the first time (see #4), she extracted some genetic material from Tom's body while he was unconscious. Years later, with Paul Saveen's help, she could conceive a son out of this. Tom is apparently confused.
Together, they use Paul Saveen's 'Time Viewer' for a glance of the year 2050: In the future, Tesla will take Tom's place as Millennium City's protector and Albrecht will be her adversary. They will fight each other with futuristic high-tech weapons until an old white-haired Tom will intervene.
During this foresight, Tom is realising that Paul Saveen should actually be dead since 1992. His body was identified on the basis of his teeth. So Tom reasons that he isn't facing Saveen, but another villain: Denby Chilks aka 'Charade', a man who is able to change his face.
Meanwhile, Dhalua, Tesla and Solomon arrive at the scene and find a pair of 'atomic knuckles' in Saveen's armory. Dhalua uses this weapon (and her great anger and jealousy) to knock Ingrid Weiss out. Finally, Charade gets a nice punishment: he has to act as Paul Saveen at Tom Strong's party on new year's eve.
Comments:
This time, we have a foresight instead of a flashback, nicely drawn by Gary Frank (Kin, Rising Stars). The appearance of the 'Strongmen of America' is especially amusing - we see Timmy Turbo, the Funt Twins and company as old men who still have their tics and quirks.