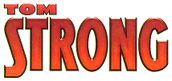 #10: Tom Strong and his Phantom Autogyro
Writer: Alan Moore
Pencils: Gary Gianni, Chris Sprouse
Inks: Al Gordon
Colors: Matt Hollingsworth
Lettering: Todd Klein


Cover date: November 2000
Plot Summary:
One more time: three short stories in one issue. Each is set on a different parallel world.
TOM STRONG and his Phantom Autogyro
Back in the 1920s, Tom is testing the Necro-Gyro, a kind of helicopter by which he is able to visit the realm of the dead. There, he meets his parents again and at the sight of his mother, he adventures himself too far...
Wonderfully drawn by Gary Gianni (Hellboy) in a victorian style. No 'real' comic with balloons, but rather an illustrated tale.
TOM STRONG: Funnyland
With a special surfboard Tom travels the next parallel earth: Funnyland is a colorful cartoon world with funny talking animals (a reference to DC's Earth C). This worlds' counterpart to Tom Strong is the rabbit called Warren Strong. And Funnylands' supervillain is a fox called Basil Saveen.
TESLA STRONG: Too Many Teslas?
Tesla wants to try the surfboard, too. While she opens the gate to the parallel worlds, dozens of Teslas on other worlds do the same thing. This ends up in a meeting of all the science-heroes' daughters from different universes. And not much later, all the angry fathers come to collect their disobedient brats.
Comments:
The first story is a very dark and sinister one, while the others are plain fun and irony. Moore is a master of both.