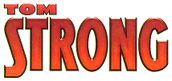 #11: Strange Reunion
Writer: Alan Moore
Pencils: Chris Sprouse
Inks: Al Gordon
Colors: Matt Hollingsworth
Lettering: Todd Klein


Cover date: January 2001
Plot Summary:
After three issues with short stories and seven issues with the help of guest artists, we have a two-part story completely pencilled by Chris Sprouse.
A meteorite is descending in the middle of Millennium City - at least people think that. In fact, what came from outer space is a human: Tom Strange, a science hero from a parallel world on the other end of the milky way, where everything's going very similar to our own earth. Tom Strong has already visited this world and had named it Terra Obscura. Tom Strange has come to get some help, because his world has been attacked by a mighty mechanical foe who already defeated all of Terra Obscura's science heroes. The journey to Earth took him 30 years because he came afoot. But Tom Strong has his Hypersaucer and so the two Toms head to Terra Obscura.
On their way to the distant world they are reading 'America's Best Comics' books from the 1940s. On Terra Obscura, they are facing the giant invader made of black metal, who has begun to replace the whole planet with mechanics.
Comments:
As soon as Alan Moore has more than eight pages for his stories, they're getting quite complex: there's a parallel universe within our own galaxy, a moon which isn't actually a moon, and a whole lot of unknown costumed heroes. Don't worry, this will all make sense after issue #12.