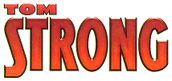 #12: Terror on Terra Obscura!
Writer: Alan Moore
Pencils: Chris Sprouse
Inks: Al Gordon
Colors: Matt Hollingsworth
Lettering: Todd Klein


Cover date: June 2001
Plot Summary:
Tom Strange and Tome Strong have arrived on Terra Obscura, where all the heroes of S.M.A.S.H. (Society of Major American Science Heroes) are caught in big bubbles for 30 years. The two Toms free them and together they start fighting the alien invader. Only one hero is missing: the Terror died 30 years ago in the battle against the invader, but he has left a secret project.
The heroes visit Terror's lab and find a box filled with little bowls. These bowls can piece together and build an electronic copy of the late Terror.
The heroes start a heavy attack against their huge enemy and the little bowls (aka 'Terror 2000') can enter the foe's brain where they manipulate his mind and force him to leave the planet for good.
Comments:
What makes this story (which began in #11) special is the fact that the heroes of Terra Obscura aren't made up by Alan Moore. They appeared during the 1940s and 1950s (aka the Golden Age of Comics) in a series called America's Best Comics. According to Moore, he didn't know about this series when he conceived his homonymous imprint. But when he was told about these heroes (who are out of copyright by now) he was eager to read their old adventures and use them for a new story.
Later, the S.M.A.S.H. heroes got their own spin-off miniseries at ABC: Terra Obscura by Peter Hogan and Yanick Paquette.