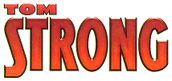 #24: Snow Queen
Writer: Peter Hogan
Pencils: Chris Sprouse
Inks: Karl Story, John Dell
Colors: Dave Stewart
Lettering: Todd Klein


Cover date: January 2004
Plot summary:
At a construction site in Millennium City, a young lady appears who seems to be made completely of ice. She turns out to be Greta Gabriel, a former lover of Tom Strong, who was put in some cryogenic limbo by mad scientist Dr. Permafrost many years ago. Back then, Tom believed her to be dead and built a memorial for her. Now, both of them are very astonished to see each other again, but Greta doesn't realize that 75 years have passed. Tom decides to take her into the Stronghold and to visit Dr. Permafrost. But the doctor is dead - Tom is meeting his grandson, who shows him a video tape where Permafrost declares that he had won against Tom.
Meanwhile, Greta receives a letter from an unknown person who lures her into an ice cave. She goes there and meets... Dr. Permafrost?
Comments:
Peter Hogan writes a classic Mad Scientist Story which is not very original. The story itself is relatively unimportant. But Hogan puts some good interhuman moments into the book, e.g. the scene when our ex-lovers realize that a very long time has gone by and everything has changed.
It's odd that this issue ends with a cliffhanger, although a completely new story is announced for #25. I'm curious if and when this story will go on.