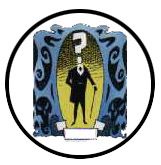 This story takes place in 1898 - it's about a victorian super-team consisting of famous characters from popular novels of this era. Moore and company used this intruiging setup to create an excellent comic book.
The books are made up in a style that makes them look like actual pulp books from 100 years ago. Language, design, typography, ad pages - everything looks wonderfully old-fashioned.
20th Century Fox produced a big-budget action movie starring Sean Connery which is (loosely) based on the comic book.
The League of Extraordinary Gentlemen was created by Alan Moore and Kevin O'Neill.
Issues: Vol. I: #1 | #2 | #3 | #4 | #5 | #6
Vol. II: #1 | #2 | #3 | #4 | #5 | #6